NEW

Story:
Table of Contents
Overview #
߷ This article is about

Vekllei

society.
Education emerged as a foundational right for Vekllei people in the constitution of the 4th Commonwealth, in the spirit of postwar democratisation and the rising of all people.
Education in Vekllei is a good example of the 'system working backwards,' the popular phrase to describe the Floral Period moving in two different directions at once. Is it modern, supplied and robust in the Western tradition – children wear uniforms, are divided into school years and learning is arranged and taught in subjects. Other aspects of the Vekllei curriculum, like its provisions for extracurricular activities and social clubs, are novel by comparison.
There is something quite interesting going on in Vekllei education that is not immediately apparent at its surface. First, compulsory schooling runs between 3-5 days a week, depending on student commitments to elective and extracurricular activities. Government schools do not employ standardised testing, and rely on subject-specific means of assessment including reviews, presentations and portfolios. The Vekllei Curriculum emphasises practicable and technical skills that blur the lines between school, community and home.
Education in Vekllei is considered a foundation of Vekllei democracy, and in the spirit of the Floral Period it is free, abundant and compulsory.
Education is a founding aspect of the 4th Commonwealth and is to be reaffirmed constantly and faithfully by all Parliaments and public servants, and to this end is to be provided for as a highest priority of the new Parliament.
Structure #
Administration and Funding #
All forms of education in Vekllei are free, including for international students at a tertiary level. The system is funded by the Commonwealth Education Secretariat (SOLCOM), which also administers the school curriculum and some schools directly.
Schools #
There are several different types of school in Vekllei, but all are government-funded and adhere to the compulsory curriculum outlined by the Education Secretary. The Vekllei Education Uniform is compulsory for all students, including at independent schools.
State Schools #
State schools (also Central Schools) are administered and funded directly by the Education Secretariat, and are common in cities and in Commonwealth member-states. They are traditionally larger and better equipped, and usually provide for both primary and secondary schooling. Some state schools are also district colleges, meaning they serve students from Prep to Year 12 or 13.
Community Schools #
Community schools are usually administered by a borough or municipality, and are usually smaller than state schools. Although some community schools may combine primary and secondary schooling (called district schools), most serve only primary education. Community schools may also refer to village schools, or community-run schools in the local Vekllei tradition.
Studio & Technical Schools #
Studio and technical schools typically refer to secondary schools that specialise in arts or vocational curriculums, as a means to fast-track gifted learning. These schools may offer boarding, as only a few studio and technical schools exist across the Commonwealth and smaller member-states may send their students overseas to study there.
Faith Schools #
Faith schools in Vekllei are affiliated with an approved religious organisation. The curriculum of faith schools have a religious character, usually Jewish or Roman Catholic. Faith schools are still required to adhere to the Commonwealth curriculum as a minimum education standard. Faith Schools are also an exception to the universal coeducational system of the Commonwealth, since two schools in Oslola and one in the Kalina Isles are single-sex boarding schools.
Boarding Schools #
Vekllei offers a handful of boarding schools, which are usually specialised institutions that may operate as orphanages or for international students. Some Vekllei boarding schools include aspects of democratic education.
Education #
Vekllei people are enrolled in 9 years of compulsory education, provided by the Commonwealth Education Secretariat (SOLSEC). In addition, 3 years of pre-school and 3 years of senior secondary schooling are offered but not compulsory. All schools in Vekllei are funded by the state, which include community schools, state schools, studio schools, technical schools, faith schools and state boarding schools.
Compared to modern schooling overseas, Vekllei education places significant value on well-roundedness and practicable household and technical skills. Subject-based streams for specialised learning are common, but the basic compulsory Vekllei curriculum emphasises non-academic subjects and structures pre-tertiary subjects as electives.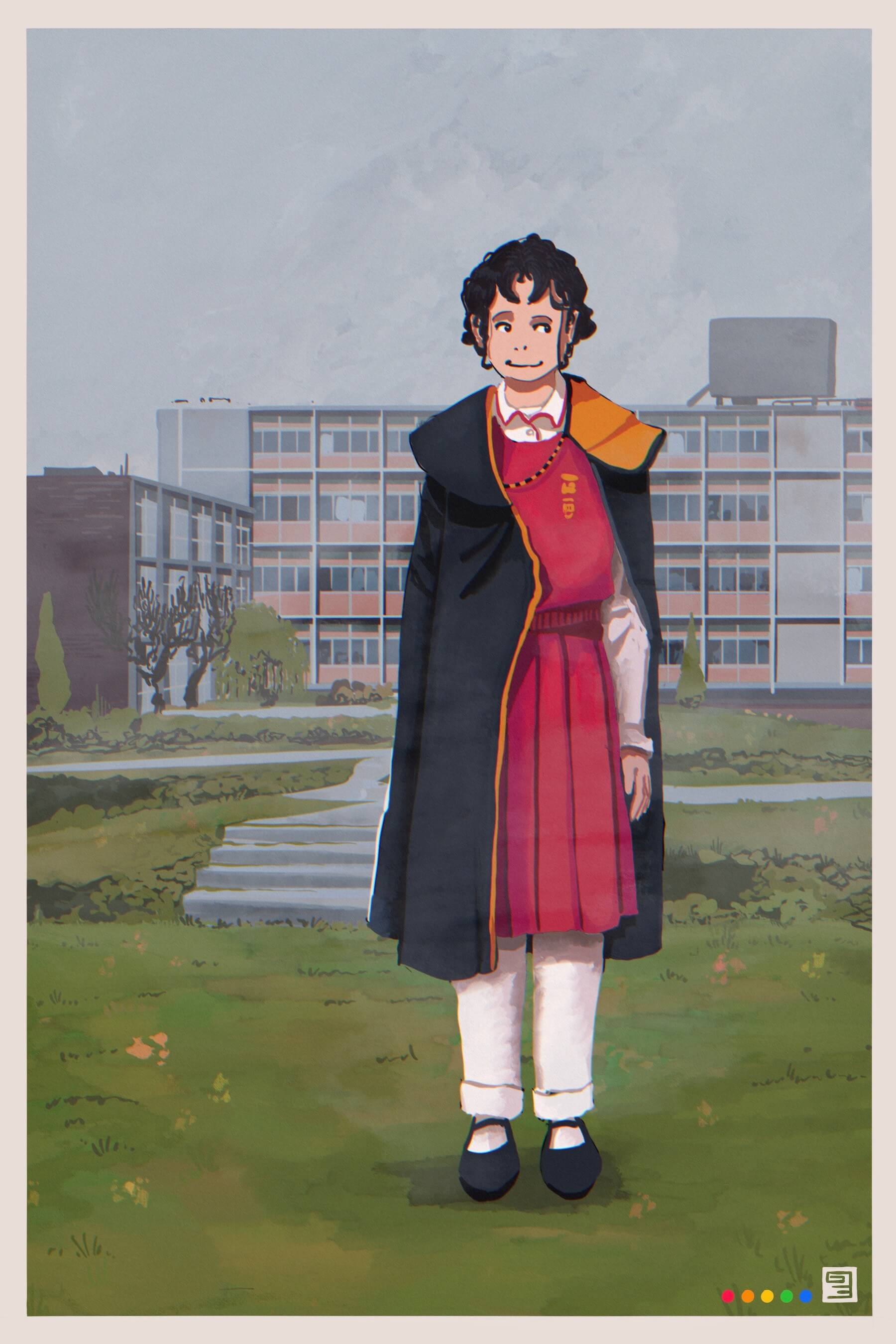 Vekllei has a strong tradition of school clubs and social organisations, and these are considered essential aspects of Vekllei education. Clubs and associations are usually organised by student leadership, and offer opportunities in industry and tertiary study.
Compulsory and tertiary education is free for all Vekllei people, permanent residents and foreign workers. Homeschooling is illegal except by those holding a teaching certificate, and is supervised by a local school which issues the child's diploma. In this context, homeschooling is almost nonexistent in the Commonwealth. About 15% of the Commonwealth Budget is allocated towards education.
Compulsory Education #
Vekllei offers preschooling from ages 3 onwards. Garden School, or kindergarten, is for 3 & 4 year-olds in Vekllei, and assists with the transition from home to school, followed by preparatory school, or 'prep', which is the first year of compulsory primary education.
Vekllei primary education consists of 7 years, starting with Prep at ages 5-6 and concluding with Year 6 at age 12. Secondary education lasts from years 7-12, and study until year 10 is compulsory.
The final year of school in Vekllei usually includes a class trip overseas, traditionally to Europe or Asia, to celebrate graduation.
Vekllei Compulsory Schooling

Preschool

Nursery School
Garden School
Preparatory School

Primary School (Years 1-6)
Secondary School (Years 7-10)
College (Years 11-12)
Tertiary Education #
The Commonwealth invests heavily in tertiary education as both a social good and a product marketable overseas. Vekllei universities rank highly abroad, and education as a service is a major export of Vekllei, and contributes to Vekllei's reputation as an international capital of finance and skilled labour.
Universities in Vekllei offer places to students who have completed their Education Award and satisfy the prerequisites for their subject. These requirements differ between subjects, and usually include an interview with the admissions board.
In order to study abroad, Vekllei students must be sponsored by a foreigner, receive a partial scholarship from an overseas university, or receive funding from their tertiary place of study. About one in four Vekllei students study overseas for some period of time.
University #
Vekllei International University offers
Vocational Schools #
Curriculum #
The Commonwealth Curriculum is the common programme of study in all Commonwealth schools, and determines standards of study across all education institutions.
Commonwealth International Curriculum

Arts
Vekllei Languages
Foreign Languages
Health and Physical Education
Civic Sciences and Stewardship
Economics and Business
World Study
Political Sciences and History
Mathematics
Material Sciences and Electronics
Work Studies
Uniform #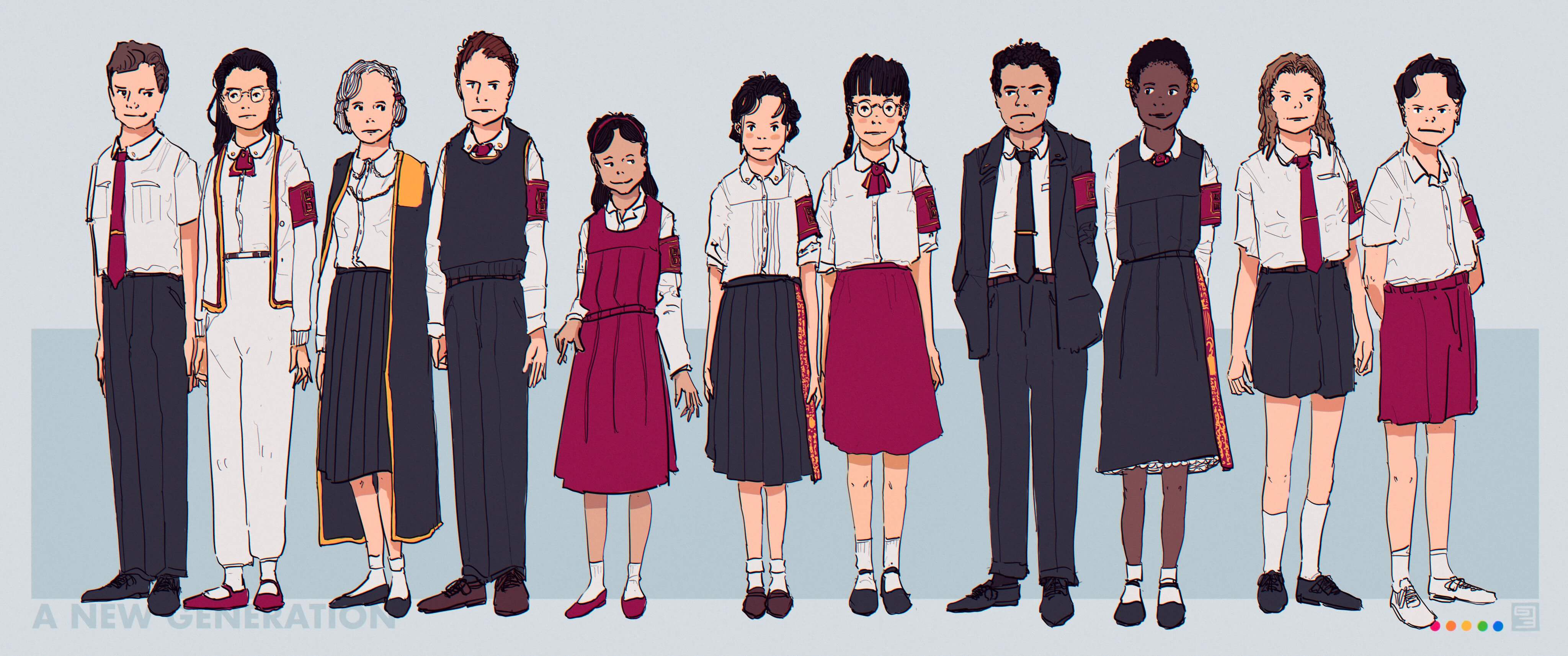 All schools in Vekllei share the Education Uniform, made compulsory by the Education Secretariat. The Vekllei uniform is simple and purchased independently, usually from department stores. The only badged items are the tie and jewellery/pins. It is worn across all ages of schooling, including tertiary education and university, and by some teachers as well.
Boys
Girls
Top

White collared shirt, tucked shirttails
Black school tie
Navy cape or mackintosh raincoat
Navy jumper or sweater
Navy blazer or sports jacket

White blouse, tucked shirttails
Black or red school tie or floral piece
Navy cape, pettycape or mackintosh raincoat
Navy jumper or sweater
Navy pinafore or gymslip

Bottom

Navy trousers or shorts
Dark or brown belt

Navy skirt or trousers
White traditional trousers
Dark or brown belt

Shoes

Dark or brown leather shoes
Dark socks

Dark or brown leather shoes
white socks
The colours of uniforms may vary in constituent member-states of the Commonwealth – for example, the Kalina Isles use dark green in place of navy. Nonetheless, the Education Uniform standards are set at the Commonwealth level and are generally adopted in whole.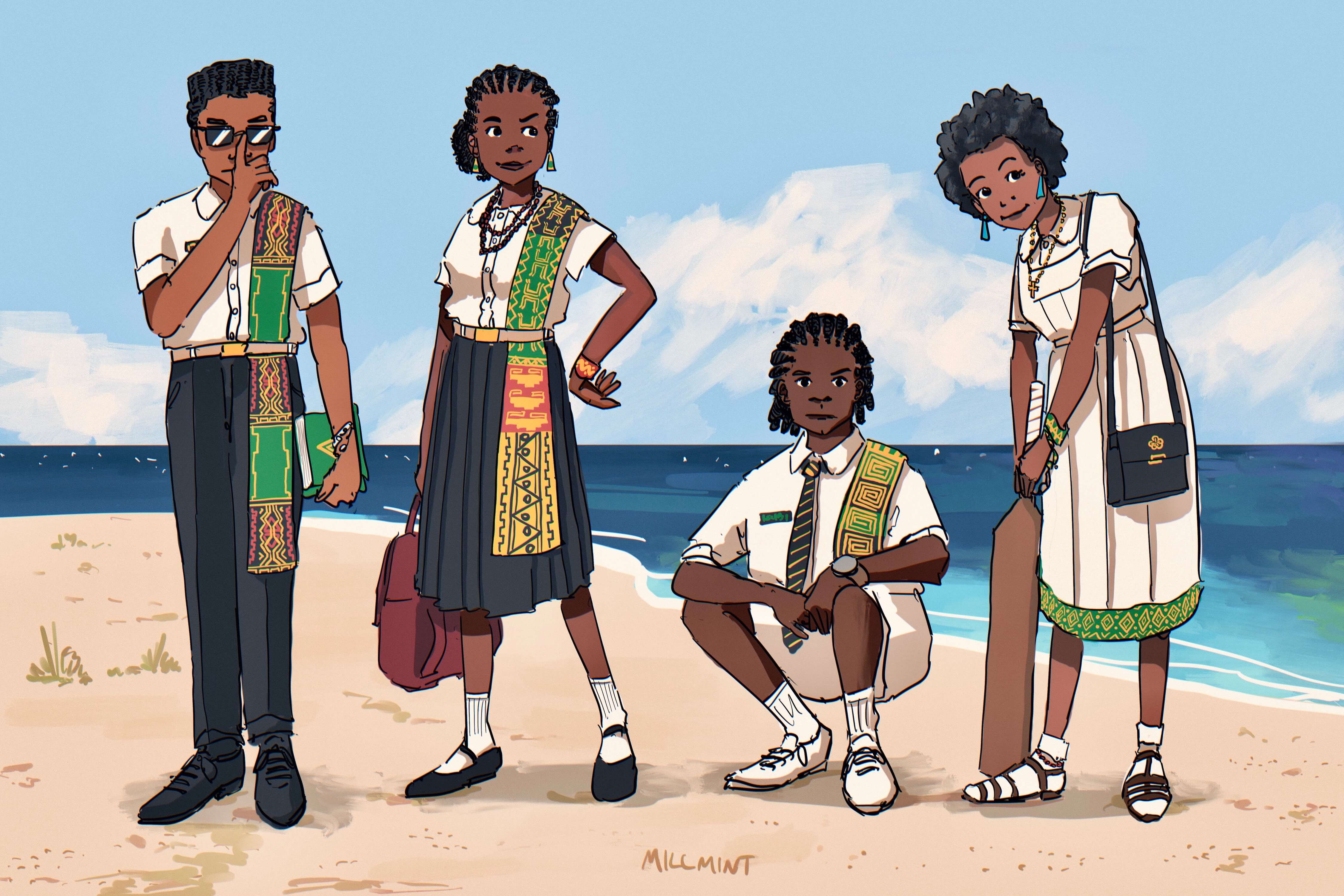 Although the items are not issued by individual schools, they are provided by the ACC on request and as such constitute a uniform rather than a dress code. The uniform system was designed in 2015 by French migrant Charles-Édouard Laurent to be accessible and comfortable, and so that individual items could continue to be worn after schooling concluded. It is iconic overseas and well-regarded by most Vekllei students.
Many schools make use of felt armbands to distinguish students or to signal membership in clubs or student councils. These are traditionally red, but may also be green or blue depending on their use.