NEW

Story:
June 21st, 2111
Thursday, Aug 12, 2021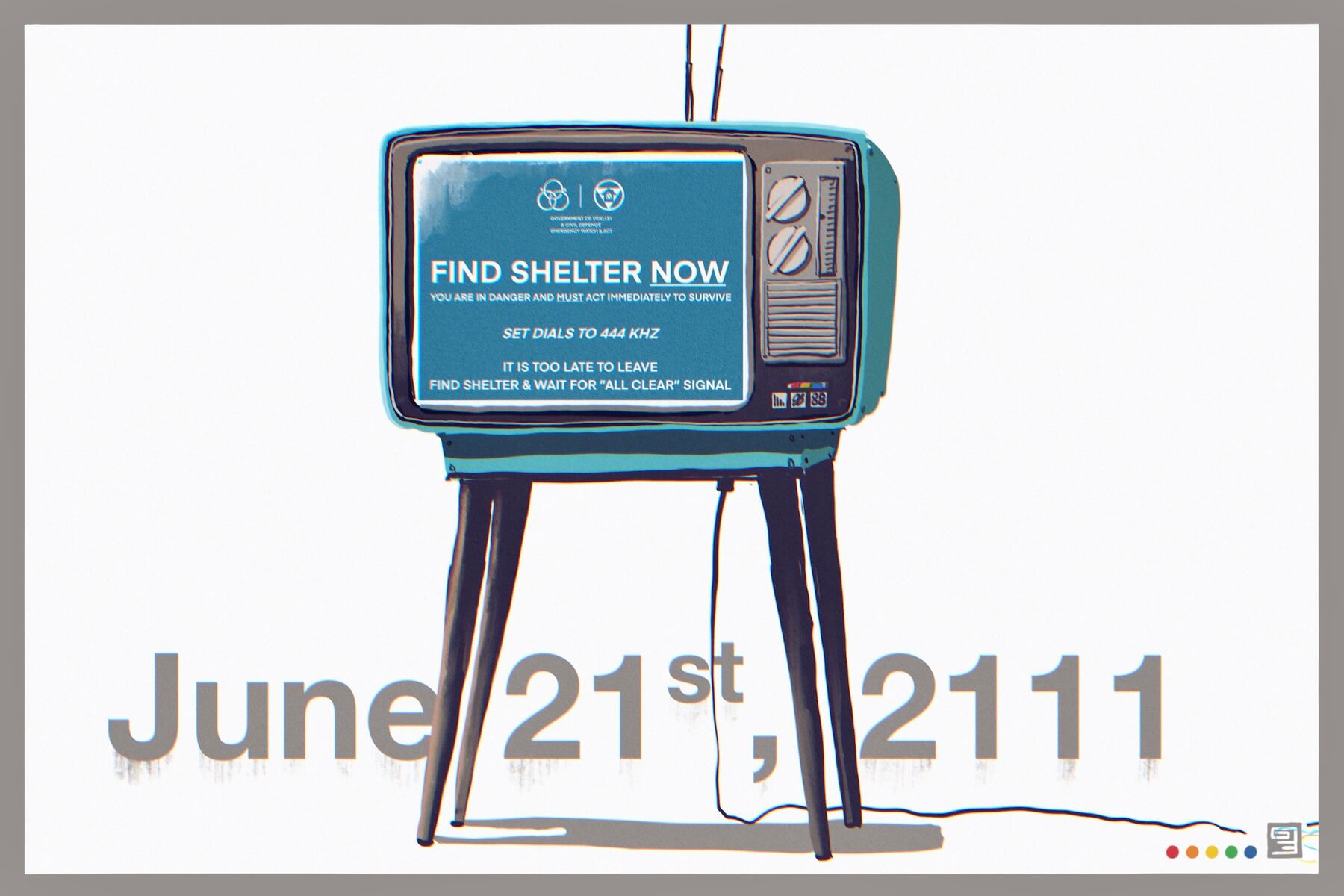 000
CDCDCD DW001 VK
HEAR THIS — THIS IS CIVIL DEFENCE — THIS IS NOT AN EXERCISE. THIS COUNTRY IS UNDER NUCLEAR ATTACK. STAY TUNED TO THIS WAVELENGTH AT 444 KHZ.
IN FIVE MINUTES OR LESS NUCLEAR WEAPONS WILL STRIKE THIS COUNTRY AND INFLICT …MOST CATASTROPHIC DAMAGE UNSEEN SINCE 2005…
YOU ARE IN DANGER AND MUST ACT IMMEDIATELY TO SURVIVE. IT IS TOO LATE TO LEAVE. YOU MUST STAY IN YOUR OWN HOME. FIND SHELTER NOW.
EXTINGUISH ALL FIRES AND TURN OFF ALL FUEL & GAS… DAMAGE TO LIFE AND PROPERTY ARE UNKNOWN AND WILL NOT BE KNOWN FOR SOME TIME…
…STAY INDOORS IN AN INTERIOR ROOM AND KEEP WELL AWAY FROM WINDOWS… ALL WINDOWS WILL BLOW OUT. CRAWL UNDER OR BEHIND SOMETHING. COVER IS THE SAME FOR BOTH HEAT AND BLAST. DO NOT USE THE TELEPHONE. DO NOT LEAVE YOUR HOME UNTIL THE ALL-CLEAR SIGNAL IS GIVEN…
BE-WARE RADIOACTIVE FALLOUT. YOU CAN NOT HEAR OR SEE FALL-OUT BUT IT CAN KILL YOU. DO NOT STAY OUTSIDE OF YOUR PLACE OF SHELTER FOR A MINUTE LONGER THAN NECESSARY. EAT FRESH FOOD FIRST. PRESERVE WATER.
ALL NEWS FROM YOUR GOVERNMENT WILL ARRIVE ON THIS WAVELENGTH AT 444 KHZ. NEWS HERE EACH HOUR EVERY HOUR. THIS IS NOT AN EXERCISE.
…THIS MESSAGE WILL REPEAT…
000